Can't Find Question? Email Us hey@octomoves.com
OCTOMOVES FLOW ROPE comparison chart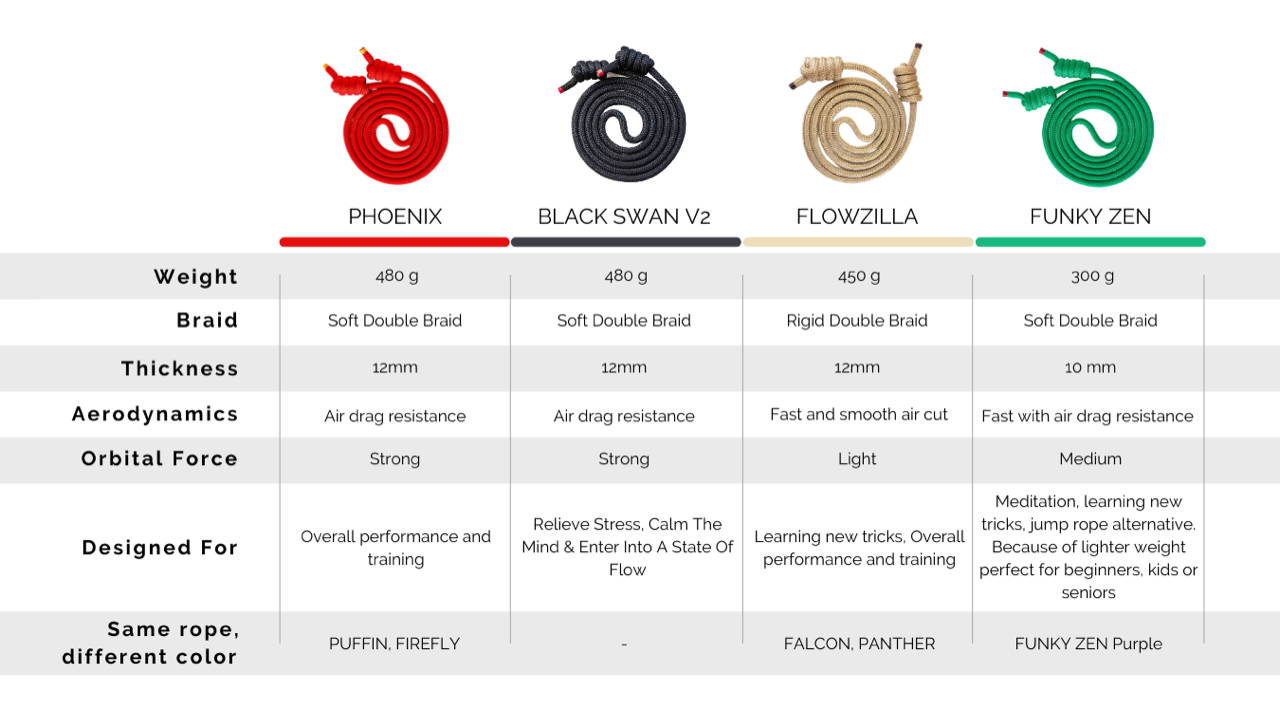 The Phoenix & Black Swan are our heaviest ropes (weighing in at 480g), and they consist of a looser braid which creates a stronger tension throughout each movement.
We recommend these two ropes for athletes looking for a more challenging Flow workout – as they help develop better muscle control, and can aid in all forms of training – including active recovery days.
On the other hand, the Flowzilla & Funky Zen weighs a bit less (at 450g and 330g), and they both have a tighter braid which cuts the air smoother and faster.
We recommend these two ropes to seniors & kids, as they are also a bit more practical for the beginner. These two will help you get the hang of our flow ropes, have fun and still be able to experience the incredible benefits of flow training.
If you haven't yet, then we encourage you to read our in-depth customer reviews, from all ages & genders across the world – so that they may help you make a better decision! They are at the bottom of our homepage.
Here's also a video review from one of our customers that you can check out:
Slushropes also had some amazing things to say about our Octoropes, and you can see what they had to say here:
We strongly recomend you watch this explainer video - https://bit.ly/3gX9vx0
And last but not least, take a look at what one of our professional athletes, Yuri, had to say about our ropes below:
No way! The Octomoves flow rope comes with training modules that are complete fitness system to help you get fit, have fun and crush your goals.
Plus free shipping is available for all EU orders.
Does OctoRope size fit all?
Yes. Our OctoRopes are 9ft (270cm) in length. We highly recommend to play with lengths of rope by tying knots. The recommended length is when you stand on a rope with both legs and pull rope on sides, handles touch ribs or handles the bottom part is even with your hip. Any shorter rope is considered advanced length. Different lengths will teach you different things.
How do I tie knots to shorten OctoRope?
We suggest you to tie knots around 10cm away from handles. Simple knot will shorten OctoRope by 15cm, Figure 8 knot by 18cm (Pass the tail over itself to form a loop. Continue under and around the standing end. Complete the knot by passing the tail down through the loop.) https://www.animatedknots.com/figure-8-knot
This product is machine washable. Don't use harsh detergents. Hang or air dry only.
Can I use a simple rope I have at home?
Yes and no. Think of your rope as a car. Do you want to ride in a beat-down, unsafe, stinky and uncomfortable piece of junk or a Rolls-Royce? OctoRopes are the highest quality, heaviest and in every way the most superior of it's kind, hence, they feel the best.
How long does it take to learn rope flow?
It will vary for each individual.
If you are a fast learner, you might be able to get a grasp, of all patterns, in an hour. Some people might need way more time than that, and this is good. It's not about the speed - it is about the opportunity to practice.
Don't skip steps and use audible cues. In fact, the longer it takes you to learn, the more you are exercising your mind!
If you are totally new to fitness, we recommend starting with Foundations Course, where everything will be pre planned and by investing 10 minutes a day, you will do great after a 28-day course.
If you are a fitness pro, a coach, or like to learn on your own, included training modules will be enough and you will be able to build your personal practice. As well, don't rush, go deeper with each pattern and learn from each repetition. That's the way to mastery.
Cannot access the course i've bought. What to do?
1. Create account using same email address as purchasing course -
https://www.octomoves.com/account/register
2. Go to "My Courses"
3. Choose the course and start your learning journey
4. Practise, practise, practise.
Take care and happy flow,
I've learned all patterns, what's next?
The first option is to start building your personal practice, explore Rope Flow on your own terms, keep training and learn from each repetition.
The second option is to get an advanced course. You can increase the complexity of your rope flow with the Banana Flow Tricking course.
You choose.
How much are the shipping costs and how fast it is delivered?
Free UPS shipping in Europe for all orders.
9 Euros for UPS Shipping for international orders up to 135 Euros.
Free UPS shipping Worldwide for orders over 135 Euros.
It takes 2-5 days after your flow rope is shipped.
BEST SELLERS
IF YOU WANT TO STICK WITH
THE BEST, WE GOT YOU COVERED.